Overview
Our EcoFog Model 1 is an ideal unit for use in small and more confined applications.
The model 1 features a fully extendable 3-metre telescopic pole allowing the user to reach into closed-in spaces such as boats, caravans, cabins as well as higher areas without the need for ladders or platforms.
A simple single lever operated valve is the only control required as once the air and liquid pressures are set, additional adjustment is not likely to be required.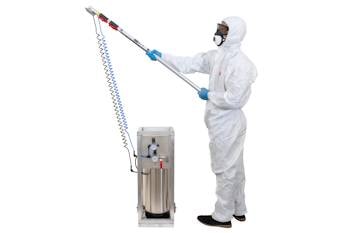 A lightweight aluminium constructed framework complete with wheels makes this unit ideal for hotels and offices where space and easy manoeuvrability is desired.
A choice of either 19 or 10 litre liquid pressure tanks is available and a mini version of the EcoFog Model 1 makes for a practical compact unit for transporting in a typical motor car.
The telescopic pole is housed within the framework and can be extended to provide a high spray advantage point to cover a wide area without the user having to manually spray the room.
We offer the system with a choice of two nozzles, one spraying 3 litres per hour and the other spraying 8 litres per hour.